Hiking in the magical Cappadocia
Hiking in the magical Cappadocia
Cappadocia in Central Turkey is best explored on foot, leisurely, soaking the uniqueness of the landscape. Some may contest that, and award hot-air balloons the superlative. Well, if you have the luxury of gliding your own balloon over this magical landscape, go do it! For the rest, walking is an equally compelling option.
There are numerous walks and hikes in Cappadocia, of varying length and difficulty levels. Based on how many days you have in the region, you can choose your hikes. I was in Turkey during what is officially the low season in Cappadocia- the cold and rainy winters. Doesn't sound all too optimistic, does it? Well, the rain Gods were merciful during my stay in December. The sun was shining for a good part and the average temperature hovered around 6-8 C. This was perfect for my agenda – which was hiking and photography.
I based myself out of Göreme in the Nevers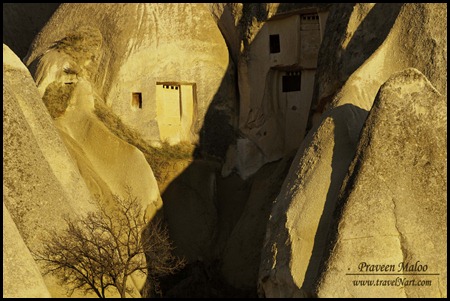 hir province. It is a stunning town –surrounded by fairy chimneys, cave houses, rock churches and strange formations overall. There are some wonderful day hikes from this town. Zemi valley is an easy day hike, providing some incredible view of this region. Its about 6 km. hike, taking about 4-5 hours at a leisurely pace. There are two possible routes: start from Göreme, next to the Open Air Museum, and do a loop; or follow a linear path so that you finish on the road near the Ürgüp town. I would recommend doing the loop, since it offers stunning panoramic views of the town, of fairy chimneys, and of Uchisar town – incredible sights to behold.
I started the hike late in the morning, and for a good part it seemed that it will be a lone hike. About half an hour into the hike, there is a small detour to a cave temple. I looked around for a bit to see if somebody had the key, but I didn't really have much luck. Another sign of it being 'low-season', I guess. Slightly disap
pointed, I sat by the steps of the temple, smoking my cigar. By the time I finished it, I could hear another hiker approaching. David from Switzerland- had worked in India for his research for quite some time, and had been traveling for a while. French refresher, interesting stories from David, and a bizarre landscape made for a good start.
"The hike is essentially through a canyon, over a narrow mud-path, which is slightly wet at places because of the streams that flow through."
Although the trail can get confu
sing at times, it is fairly well marked. David and I did run into dead ends a couple of times. We soon had some more company – Anna from the States. She had been volunteering in Africa- helping local farmers with organic farming, and interestingly, was horse-back ri
ding through the countryside of Cappadocia. She was about to cut her hike short, and retrace her steps back from what was the only steep point in the hike. Nothing overtly dicey, and a rope made the life slightly easier– but some really ferocious dogs kept her away from making it to the other side. David and I convinced her to join us. Thankfully, the dogs were content with just barking at us, and we continued on our trail. It led to a couple of cave churches with home to basic frescoes. Unfortunately, the paintings seemed to have been deliberately damaged
.
"As the evening started to descend, the entire landscape assumed golden hues, with the volcanic peak of Mt. Erciyes looming large in the backdrop"
Meanwhile, a couple of Turkish men were planning to set a camp in the valley for the night. Turkish hospitality surely was one of the highlights of my visit; here was yet another example: they offered us some bread and apples and showed us some more frescoes. From the church, we started back on the loop towards Goreme. The walk back is really easy and flat, but the 360 degree view that you get is unparalleled. My only grimace was that the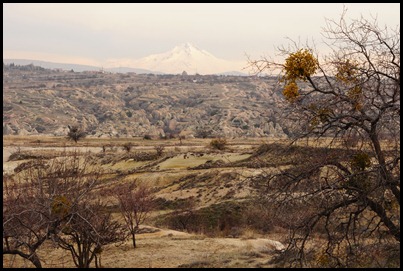 short winter day left me with much less golden-light time:
You might also like: