Dal Lake, Srinagar: Life on Water
Dal Lake, Srinagar: Life on Water
                                 Although I had been to Srinagar, Kashmir, a couple of times in the past, I didn't happen to stay on the Dal Lake on any of the occasions. In fact, it was merely a transit both the times. It was a transit this time too. But I gave myself a couple of days to stay in Srinagar; as going to Srinagar and not experiencing the life on the water is like going to Egypt and not seeing the Pyramids!
The World of House boats and Shikaras
It was the month of August and apparently off-s
eason for tourism on the Dal Lake and hence, deals were supposed to be better for a stay on the house boats. At the Dal Gate, a Shikara owner Yusuf offered me to show around different house-boats on the lake for my stay. Shikaras are the traditionally designed wooden boats found on the lakes in Srinagar. Tourism and the daily routine of the folks living on the lake revolve around Shikaras.
"Over time, they have become the cultural symbol of Kashmir"
You would find them in various sizes and with various degrees of embellishments.  Practically, every house-boat has at least one Shikara for commuting.  Yusuf showed me a couple of house-boats which were quite close to the Foreshore road. He was a little reluctant to row farther. However, since I was quite insistent on staying well away from the road which circumscribes lake, he obliged. After looking around for 15 minutes, I settled for a room in Latif's houseboat. I got a wonderful room with hot shower, all meals inclusive, for Rs/-  800.  He checked with me if I wanted his service in the evening for a ride on the lake. I asked him to come back.
Discovering an Old World Charm
Old world charm oozed out of the house boat as soon as I stepped in: Beautiful wooden furniture with intricate carving, elegantly embroidered red carpet  running right through the house boat. Everything was tastefully done. The floor creaked when you walked. Everything was so reminiscent of yesteryears.
Interestingly, Latif is based in France and deals in Kashmiri shawls, whereas his father had never set his foot out of Srinagar"
After a quick shower and a delicious Indian meal I browsed through the small but interesting library. I sat at the front portion of the house boat, observing the affairs on the lake, contemplating and r
eading. I loved just being lazy.  Yusuf returned  in the evening and checked if I wanted to go for a ride on the Dal Lake.  It was time for me to have a closer look at the life on the lake. An eclectic mix of farmers, villagers, holiday makers co-exist with synergy. We rowed through the beautiful floating islands, some with traditionally built kashmiri houses, others with lotus and vegetable gardens.
"Sometimes we had to row over nothing but weed. Yusuf calls it Water-Trekking"
The splash of the oar caressing through the water was absolute music to the ears. It is such a p
eaceful sound that you could listen to it forever.  Being a wetland, it's a birder's paradise as well. Though I am no ornithologist, I could make out that there was a rich diversity.
"The reflections on the placid waters of the lake could deceive anyone"
The Dal Lake is a self-contained world, well, at least for the tourists. Once you are out on a Shikara ride, you have everything from a mobile ice-cream parlor, coffee-shops, photo-studios, florists at your service; a true commercial hub. You could purchase saffron or  the famous pashmina shawls, albeit at the risk of being  sold counterfeits! Once you get back to your houseboat, don't miss to drink a cup of Kawa, local tea made with saffron.
Although I stayed just for a day, I would suggest staying for 2-3 days. There's lot more to see in Srinagar and you could always return to the floating abode after your day.
Here are a few more images from the Dal Lake to give you an idea :
A young lad steps out of his house on a boat.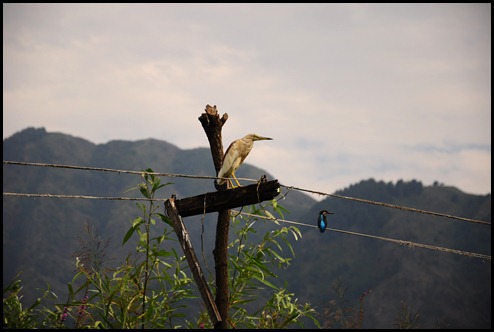 Dal Lake is a Birder's Paradise
Lotus plants on the Lake
You might also like: